CALL CENTER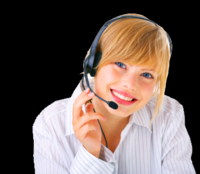 Communication with clients via call centre is one of the dominating feature of our activity. We are able to successfully realise via telephone the most untypical and complicated tasks, both inbound and outbound .
We use modern and technologically – advanced contact centre system.
Experience that goes without routine. Phone conversations without scripts!
The efficiency of our telephone services is achieved by specialists who form a group of experienced telemarketers working for Customeritum. Their flexibility allows them to conduct an effective telephone conversation without the need to use a script. Non-scripted communication, more effectual than the scripted one, constitutes 50% of calls made at our office at the moment. The advantage is your confidence that:
Your company's flawless image.
We are working long enough to know: plenty of telemarketing firms spoils their customers' opinion because their lack of professionalism. There are many reasons for such a situation – mistakes made when choosing bases and their over –exploitation; also unskilful telemarketers and insufficient monitoring. If you are anxious about your company's reputation we guarantee:
We are not focused on clients happening once.
We would like them to stay with you longer!
Flexibility that is beneficial for your company!

Every customer is important to us. I does not matter how many interlocutors you wish to phone – 500 or perhaps 50,000 - we will give proper attention to all of them. What is more, we offer a wide range of possibilities to form your orders in your own fashion. We can help you to configure your telephone campaign. We allow you to choose a settlement that is most convenient to you: depending on the duration of talks, number of calls or the number of sales.

High quality guarantee!

We can assure you that our specialists will do their best so that service of your customers is effective. In case you find it essential, we have introduced monitoring of calls. Moreover, we continue improving techniques of talking to customers in order to make selling more effectual.

How do you profit from using our hotline service?

Peace and confidence
Lower costs
High sales-efficiency
Pleased and loyal clients
We offer the following telemarketing services:
INBOUND (attending incoming calls)
Attending hotline (CONTACT CENTRE)
Helpdesk
After-sales attendance
Complaint attendance
OUTBOUND (attending outgoing calls)
Help with preparing strategy
Client-base preparing
Script preparation
Training of telemarketers
Campaign conducting
Monitoring of calls
Preparation of reports
ADDITIONALLY: a talk without a script