New! BConnect service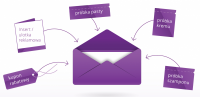 Combination of advertising contents of various companies in one packet.
We have a large group of clients from various sectors, such as insurance,finance, advertising, publishing, medicine, commerce etc.

We select databases for our clients based on their needs,we print materials, we pack and ship at optimised prices.

Benefits:

reduction of shipment costs,
development of the database of recipients,
a possibility of getting a trustworthy database of recipients,
increase of sale.
Our workers in Poland are at your service!