AFTER-SALES SERVICE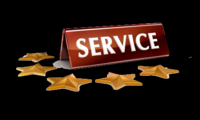 Not only do clients judge you on the basis of your sales' amounts but also, or maybe first of all, by contact they have with you. Customeritum helps to take care of good relationships with client also after selling-buying process has been finished. The after-sales service incorporates call and dispatching centre campaigns.
Professional help with choosing appropriate operation strategies.
There are many factors influencing the way for communication with your clients: goals you want to achieve, type of products or customer profiles.
At Customeritum we are willing to find proper strategies for your operations to make your activity most efficient in your concrete situation.

In the scope of our after-sales service we offer:

Helpdesk
Hotline service (Contact Centre)
Admitting complaints
Gathering opinions about a product
Introducing customer loyalty schemes
Monitoring charges

What do you gain using our after-sales services?

Loyal and satisfied clients who will recommend your services
Good image of a company where the staff care about their customers
Reliable information regarding your customers' needs
Lower attendance costs
100% guarantee for complete service
Choosing Customeritum after-sales service is a guarantee for cooperation with best specialists. Your clients are sure to be treated with proper care and attention, and they will also be given necessary support. Regardless of the type of service you decide to, correspondence or telephone, our workers will prepare for you:
Suggestions regarding operation strategies
Client base options
Call scripts
Correspondence texts
Monitoring of calls
Detailed reports